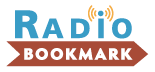 Follow-up on the stories and music you don't want to forget…
Why do you want a Radio Bookmark?

With a push of a button, the Radio Bookmark remembers the stories and music that you were listening to on your public radio station.
Later, you can review all of your bookmarked stories and music on your personal Radio Bookmark web page
You can share a link with family and friends.
How does it work?

When you push the button, it remembers the precise time of day.
When you plug it into your PC or Mac, it transfers the bookmarks and locates the story or playlist for that time.
Then it displays the web page and plays the audio for stories or displays the piece of music and composer or playlist on your personal bookmark page!